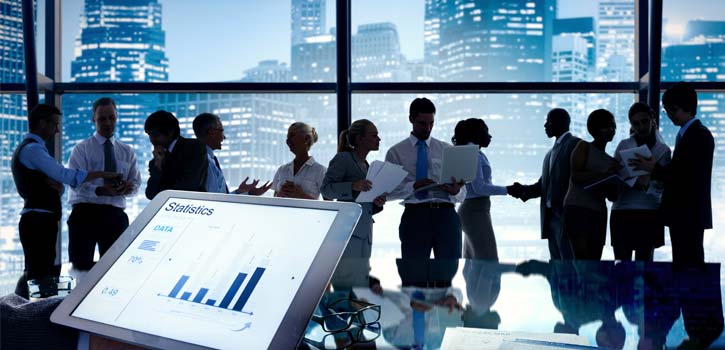 Insurance policies are the hallmark of a professional startup
When people launch a financial or real-estate startup, the temptation is to start doing business with as few fixed costs as possible. This might involve leasing lower-grade office space, hiring 1099 virtual assistants rather than a full-time salaried staff, or skimping on insurance and employee benefits. This makes sense for companies that have yet to generate significant revenue. But it can also generate its own problems. Here's why.
One of the challenges of starting a new firm is making the right impression with prospects, clients, other businesses in the community, and potential employees. Acting with professionalism is the way to do that. How so? By conveying a strong brand, having well designed procedures, and implementing a safety net for your business in case something goes wrong.
Part of having a safety net is establishing a cash reserve. The other part is having a full menu of business insurance to protect you against just about any risk. This includes having . . .
general liability insurance,
property insurance,
workers' compensation coverage, and
E&O insurance.
The latter form of insurance may be the most important of all for financial and real-estate professionals who provide professional services. Making the wrong client recommendations or failing to do something important can result in clients suffering large financial losses. E&O insurance provides funds for a legal defense, as well as cash to pay for legal judgments should the professional lose in court. Having E&O insurance is the hallmark of a well managed startup. It shows . . .
that you take your business seriously,
that you understand the risks of doing business, and
that you are committed to make good on legitimate claims against you.
In short, it conveys that you are a real pro committed to running your business the right way,
Avoid Mistakes in the Beginning
Just as startups want to minimize overhead at the outset, they also want to avoid making mistakes in the beginning that can cripple their firms. One way to do this is to make a serious commitment to assuring compliant business practices and ethical values. Learn all  relevant regulations that affect their business and strive to adhere to them. This is the minimum commitment a startup should make in order to do business responsibly. But it doesn't stop there. They must also go beyond compliance requirements and commit to ethical values in every domain of their business. Values are the "rules of the road" that startups follow when there aren't black-and-white compliance guidelines to follow.
Another way to view the distinction between compliance  and ethical values is to consider the difference between  a commodity product or service and one that's differentiated by higher-level benefits or services. In most financial and real-estate startups, the owners will just try to meet the minimum compliance requirements, which unfortunately positions them as a commodity provider. The more sophisticated and creative entrepreneurs will try to exceed the minimum and imbue every facet of their firms with client-centered ethical values. This results in a stronger brand positioning as well as a lower risk potential from an E&O insurance perspective.
Avoiding mistakes in the beginning also involves putting the time in to learn all aspects of your business model: the features and benefits of our products, the steps in the sales process, the details of customer service, and the workings of your office technology and procedures. The time to master all of these details is before you launch the business, not after. Doing the latter is an invitation to making a mistake and getting sued.
E&O Insurance Covers the Cost Associated with Lawsuits
Of course, getting sued is exactly what an entrepreneur doesn't want to happen in the startup phase. Having a client sue you is not only traumatic, it can distract you from doing the essential tasks your new business needs to grow. And if you lose in court, a legal judgment can amount to tens of thousands, if not hundreds of thousands of dollars. There aren't many start-up businesses than can incur a six-digit financial hit and not go under. Fortunately, E&O insurance can come to the rescue in times like this because it covers the cost associated with lawsuits.
What does it actually provide?
First, your E&O insurance will recommend an attorney to defend you and pay for that person's fees and expenses.
Second, your insurer will appoint a claims adjuster to handle your case so you can focus on working in your startup.
Third, your insurer will provide cash for legal judgments should you lose in court. As we just mentioned, having to pay for six-figure legal judgments, as well as court costs, may well put your promising startup six feet under.
In short, if you are contemplating starting up a new financial or real-estate business, strive to act professionally in every aspect. This involves:
Projecting a strong image.
Having a cash reserve.
Implementing well-designed procedures and policies.
Instituteing a financial backstop in the form of E&O insurance so that one client lawsuit doesn't put you out of business.
Another reason to protect yourself? Launching a startup is a lot of fun. It's wonderful creating something that never existed before. Every day will literally be a new adventure. But if you're uninsured against the errors and omissions you might make,  you won't be able to fully enjoy the ride, since you'll always be second-guessing your decisions and worrying about which client relationship will go bad. Don't let this happen to you. Insure your startup today with affordable, high-quality E&O insurance. And since time is literally money for busy entrepreneurs, consider buying your coverage  from a convenient online provider such as EOforLess.com. In most cases, you'll be able to shop, apply for, and print your insurance binder within just a few minutes.
https://www.eoforless.com/wp-content/uploads/2016/12/EO-Insurance-2.jpg
350
725
EOForLess
/wp-content/uploads/2017/09/logo@2x-1-300x205.png
EOForLess
2016-12-22 18:01:25
2018-11-21 18:39:05
Why Even The Smallest Startup Needs An E&O Insurance Policy